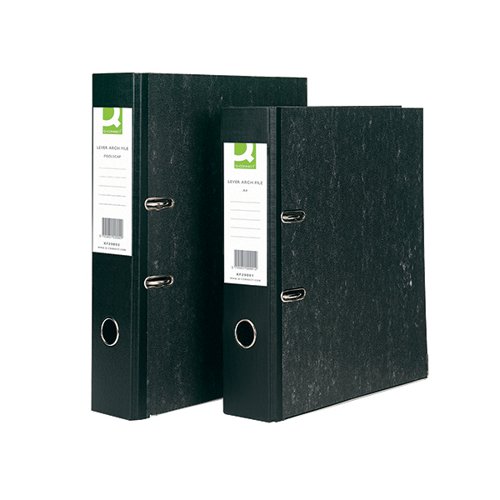 Important Update - Inkjet Printers
There is currently a Worldwide shortage of desktop inkjet printing equipment, due to the pandemic and also restrictions at ports across Europe.
We do have a steady stock due in from manufacturers such as Epson, HP, Canon, Brother, and Lexmark.
Where an item states 'Stock Due Soon' customers are able to place the order for the item and join a back-order. As soon as stock lands in the UK it will ship to our customer directly.
If you wish to cancel a back-order and no longer wait please inform us and a refund will be initiated within 24h.
Description
Manufactured using recycled board and paper, with a stylish marbled design, these Q-Connect lever arch files have a 70mm capacity for A4 documents. The file features a large labelling area on the spine for quick identification of contents, a thumb hole for easy retrieval from the shelf and locking slots and metal shoes for durability. This pack contains 10 black files.
Specifications
Biodegradable Information
Contains timber or derived materials
Thai Development Industrial Paper Co, Ltd
Post Consumer Recycled Content
Cyprus/Gum/Loblolly Pine/Oak/Southern Yellow Pine